Chicago Young Lions' 9th Annual Food Drive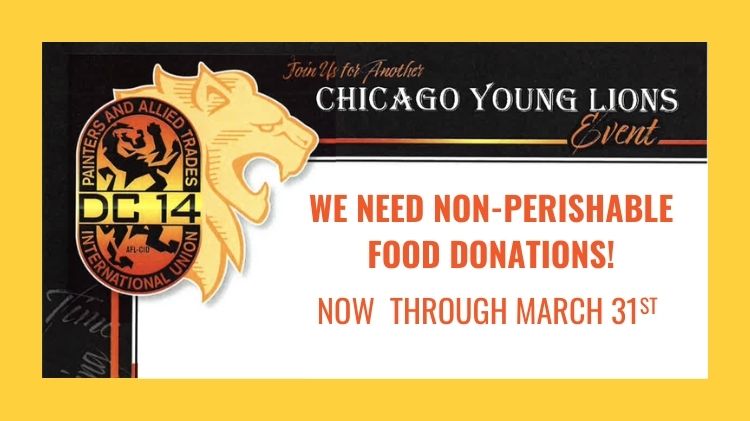 Our Chicago Young Lions' 9th Annual Food Drive Is Back!
Accepting Donations NOW – March 31st, 2022
desplácese hacia abajo para la versión en español
Let the charitable competition between all DC14 Locals for the coveted 2022 Golden Can award begin! In accordance with safety guidelines the event was put on hold the last two years, but there is a need for non-perishable food items to jump start a new program – a pantry serving our membership.
In April 2022 DC14 is launching a food pantry focused on helping our members when they need it! All the donations from this drive will help stock the shelves. Details on hours of operation and how-to pick-up items will be coming soon, so keep an eye out.
Please make sure your name and local appear on your donation box/bag prior to dropping them off, so we can make sure your local gets credited. The local that collects the most donated items will be awarded the "Golden Can" 2022.
Donations can be dropped off at:
Your Local office/meeting
The District Council office
The DC14 Apprenticeship School
You can also talk to your, B/A, Rep or C.O.R.E. Delegate
Please turn in your final item count and all the donations to the District Council by Thursday, March 31st @ 3:30 pm. The winning Local will be announced the first week in April.
When shopping, please be aware of the expiration date on all items.
MOST NEEDED ITEMS FOR A FOOD PANTRY
Canned Meat or Fish – tuna, chicken, stew, chili, salmon or corned beef, are always in need
Soup - easy to store and keep on pantry shelves
Canned Fruits and Vegetables
Peanut Butter
Pasta
Non-Perishable Milk Products – soy is a great option
Grain Products
Cereal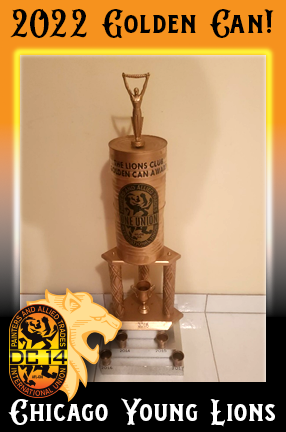 Which Local Will Hold the Golden Can?!
Need more information?
Contact Ahmad EL-AL at (773) 484-9365 or Helen Chung at (312) 421-0046.
It's all for a good cause – giving back to our members! Now show your local pride and BRING HOME THE GOLDEN CAN!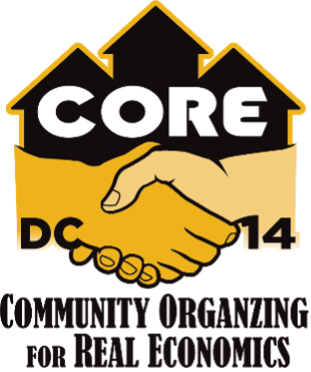 ---
¡Regresó nuestra novena colecta anual de alimentos de
Chicago Young Lions!
Se están aceptando donaciones desde AHORA - 31 de marzo del 2022:
¡Que comience la competencia benéfica entre todos los DC14 Locals por el codiciado premio Golden Can 2022! De acuerdo con las pautas de seguridad, el evento se suspendió durante los últimos dos años, pero se necesitan alimentos no perecederos (duraderos y sin conservantes) para impulsar un nuevo programa: una despensa que sirva a nuestros miembros.
¡En abril del 2022, DC14 lanzará una despensa de alimentos enfocada en ayudar a nuestros miembros cuando lo necesiten! Todas las donaciones de esta campaña ayudarán a llenar los estantes. Próximamente se brindarán detalles sobre el horario de atención y cómo recoger los artículos, así que esté atento.
Asegúrese de que su nombre y local aparezcan en su caja/bolsa de donación antes de dejarlos, para que podamos asegurarnos de que su local sea acreditado. El local que recolecte más artículos donados será premiado con la "Lata Dorada" 2022.
Las donaciones se pueden dejar en:
Su oficina/reunión local:
La oficina del Consejo Distrital:
La Escuela de Aprendizaje DC14:
También puedes hablar con tu, B/A, Rep o C.O.R.E. Delegar
Entregue el conteo final de artículos y todas las donaciones al Consejo del Distrito antes del jueves 31 de marzo a las 3:30 p. m. El Local ganador se anunciará la primera semana de abril.
Al comprar, tenga en cuenta la fecha de vencimiento de todos los artículos.
ARTÍCULOS MÁS NECESARIOS PARA UNA DESPENSA DE ALIMENTOS
Carne o pescado enlatados: atún, pollo, estofado, chile, salmón o carne en conserva, siempre se necesitan
Sopa: fácil de almacenar y mantener en los estantes de la despensa
Frutas y Verduras enlatadas
Mantequilla de maní
Pastas
Productos lácteos no perecederos: la soja es una excelente opción
Productos de Granos
cereales

¿Necesitas más información?
Comuníquese con Ahmad EL-AL al (773) 484-9365 o Helen Chung al (312) 421-0046.
Todo es por una buena causa: ¡retribuir a nuestros miembros! ¡Ahora muestre su orgullo local y TRAIGA A CASA LA LATA DE ORO!