Painters District Council 14 Shows Up to Help Chicago's West Side
On June 6, 2020, members of Painters District Council 14 gathered in the North Lawndale Neighborhood Community to help cleanup local areas impacted by protests over the senseless murder of George Floyd in Minneapolis. They joined an amazing outpouring of North Lawndale and other concerned Chicagoland residents some totaled at over a thousand people, far more than the anticipated 100-200 volunteers.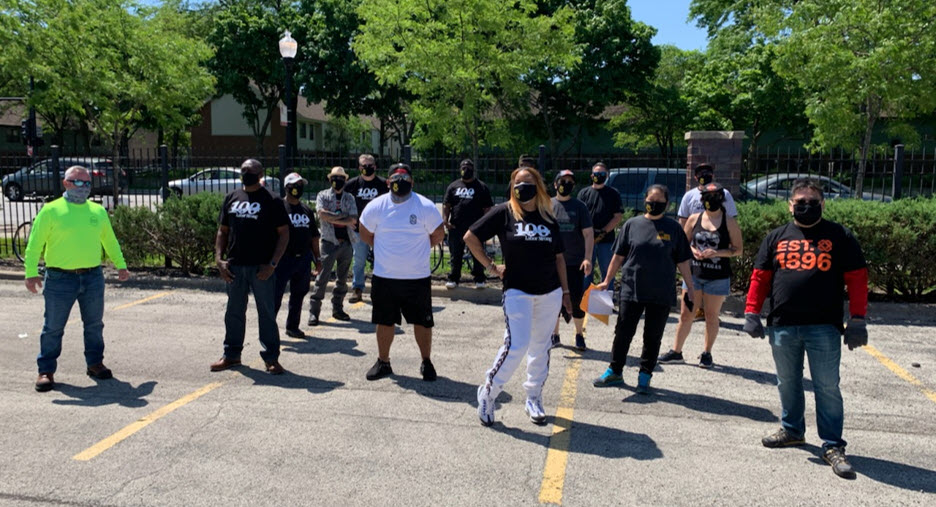 Some of the early member volunteers gathering from Painters District 14
The event was structured by Kaleb Autman, an organizer from North Lawndale, Alderman Michael Scott, Jr. of the 24th ward and Pastor James Brooks of Harmony Community Church. Mike Dixon, Business Agent from DC14, procured many volunteers from his local 1332, as well as others. He was able to secure donated supplies for the cleanup from the district council and Finishing Chicago, the marketing arm of DC14, in the form of brooms, shovels, dust pans, gloves, safety glasses and boxes of construction-grade trash bags. Finishing Chicago was able to bring in a film crew to document the event for a future episode of ABC's Built to Last television series.
Everything officially started with a rally where Alderman Scott thanked everyone from the bottom of his heart for showing up to help. He admitted he was overwhelmed by the sheer numbers of volunteers. Pastor Brooks had the last words before sending everyone off to five pre-determined "zones" for cleanup. His prayer for change and understanding culminated with a request everyone take a knee and join him in an 8 minute 46 second moment of silence honoring George Floyd's senseless time spent under the knee of a Minneapolis police officer(s) while repeatedly crying out, "I can't breathe."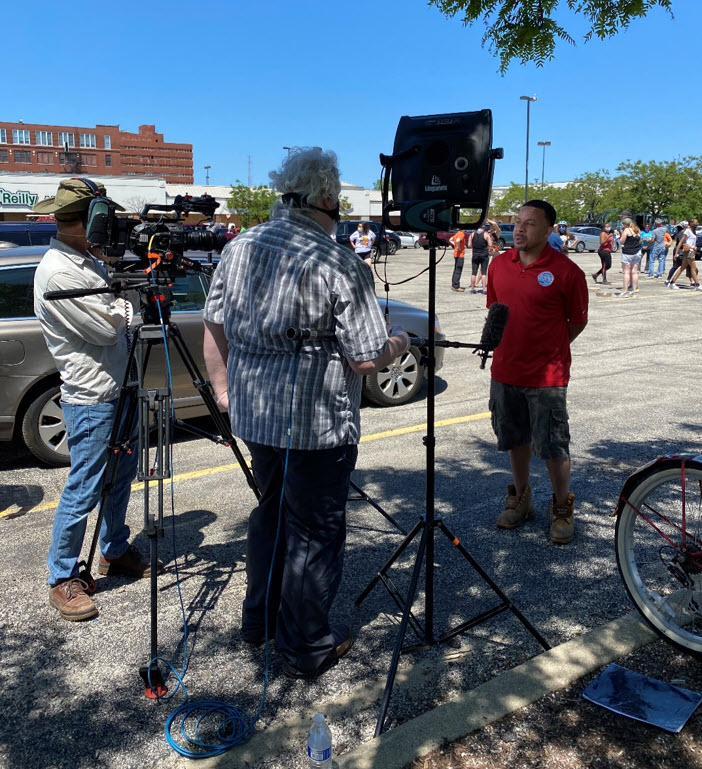 Alderman Scott is interviewed by the Answers Media film crew for ABC's Built to Last series
The crew of volunteers dispersed throughout the neighborhood, several open lots, alleyways and streets alongside residences and businesses. Affecting the area as only a focused union of people can, with a common purpose, they bagged trash, removed overgrown landscaping and most importantly infused the area with a sense of positivity. Gathering for donated sandwiches at the end of the afternoon many volunteers were exchanging stories of happy residents offering their thanks. In many ways the community was left cleaner than it was before…as is the common practice of our Union.
We stand in SOLIDARTY with our Brothers and Sisters, UNION STRONG.
More footage of the cleanup can be seen at: fox32chicago.com/video/691405
C.O.R.E. Community