DC 14 Members Running For Office & Election Dates
Richard E. Leja | 3rd Ward Alderman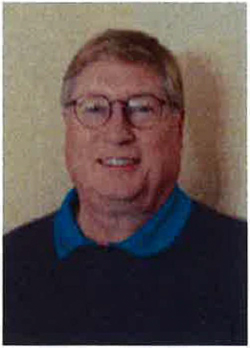 Richard has been a union member in good standing in local 191 for over 40 years. Starting his career at the famed Washburn Trade School and working for M. Ecker Decorating. His early years were concentrated on stage work and spraying, eventually working his way into paperhanging and Faux finishing. He worked for Tiffany Decorating, Miglin-Beitler corporation, and The Hilton Towers before his retirement in December 2015. He is now a lifetime Gold Card member. Richard married Patricia Hartenstein in June 1976. Patricia's father, Bill Hartenstein had been a painter in local 147 for close to 50 years. Most of his later years were spent painting for the Chicago Park District and at Lincoln Park Zoo.
Richard and Patricia have 3 grown children. They moved to Berwyn in 1980 where Richard has been involved in the community ever since. He was involved in the St. Leonard troop 32 scout program for many years. He was on the St. Leonard school board and Parish council. Richard is a 4th degree knight since 1998 and was instrumental in bringing the Vietnam Moving Wall to Berwyn in 2014. He has been on the executive board of The Berwyn Pav YMCA since 2017 and has tirelessly worked with seniors, veterans, and area youth since the early 80s. Richard is now running for 3rd ward alderman in Berwyn. He will be a voice for union issues, and an advocate for fair and equitable treatment for our working families.
(708) 749-3824
@lejafor3rdward
friendsof3rd@gmail.com
---
Karl Ferrell | Candidate for Joliet Township Trustee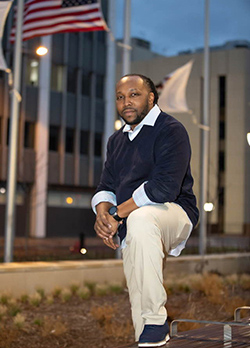 As an active and engaged member of I.U.P.A.T. Local 33, Karl has volunteered and assisted numerous politicians that support Union Labor. Karl is a member and former president of District Council 14 Young Lions Committee, an organization that's committed to social, community and political volunteering. Karl is also a trustee for Joliet Painters Local 33, along with being a founding member of the newly organized Will County Democratic Black Caucus, Joliet Gatekeepers, community empowerment, and mentoring program. Karl is also a founding member of the Will County chapter of Black Lives Matter and he's currently running for Joliet Township Trustee.
Karl is a dedicated community activist with a keen interest in social and economic empowerment for distressed communities as well as an advocate for equal education and opportunity.
---
Matt Shepard | MCHS District 111 School Board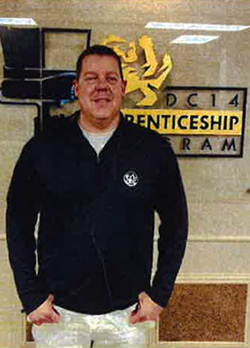 Hello!
My name is Matt Shepard and I am running for MCHS District 111 School Board. Below, you will find a short bio to give you a better idea of my background.
I am currently an Instructor at DC 14 Apprenticeship Program teaching commercial painting for District Council 14 in Chicago.
I am 45 years old, grew up in Shorewood and have lived in Channahon for the last 16 years. I went to the Troy Middle School and went to Joliet West High School. I have been a union painter for 22 years. I spent 18 years in the field doing mostly commercial work. I have always been very active with my local. I started off as a trustee, moved on to treasurer, then financial secretary and now currently hold a position on the Local 33 E-Board. The Union contract that I have worked under has provided myself and my family peace of mind with great wages and benefits.
Graduating from the DC 14 Apprenticeship and receiving the Outstanding Apprenticeship award for my graduating class is something I will always be proud of. But I kept striving for more after that. Becoming a foreman, running large projects, being an officer at Local 33 and eventually becoming an instructor at the DC 14 Apprenticeship Program are all accomplishments that I am all very proud of.
But first and foremost, getting married, having 2 sons, and becoming a grandfather without a doubt are my most cherished achievements. I have been a volunteer at the Minooka Community High School for the past 2 years donating my time as a boat captain for the Minooka Anglers Club. I also am an avid tournament bass fisherman. I truly enjoy my neighborhood and community here in the MCHS school district.
I look forward to meeting and answering any questions anyone may have! Please feel free to contact me. Thank you for your support
Matt Shepard
815-530-4780
matthewshepard@sbcglobal.net
---
Consolidated Primary & Election Timeline for 2021

Consolidated Primary - February 23, 2021
---
JAN
14
2021

Early voting starts
JAN
14
2021

First day vote by mail ballots sent out
FEB
18
2021

Last day for election authority to receive via mail a vote by mail application
FEB
23
2021

Consolidated Primary Election Day
Consolidated Election - April 6, 2021
---
JAN
06
2021

First day for voter to make application by mail or in-person for ballot
FEB
25
2021

First day to vote early at election authority
FEB
25
2021

First day vote by mail ballots sent out
MAR
12
2021

First day to vote early or by mail if primary was held
APR
06
2021

Consolidated Election Day